Introduction:
If you are looking to purchase new pontoon boats for sale, there are many different types to choose from. One choice you must make is what type of Pontoon boat you would like.
There are many brands, makes, and models on the market, and the list keeps growing. With the growing popularity of pontoon boats, the manufacturers continue to produce new models with more great features and options for all types of boaters.
Engines are faster than ever before, and no matter what size or model you are looking for, there is a pontoon that will suit your needs and budget.
With so many choices, it is important to know what you are looking for and what you need in a pontoon before making your purchase.
In an effort to help you decide, Premier Watersports have put together a list of the different types of pontoon boats and what each type has to offer. Pontoon boats are like SUVs of the water because they are:
Multifunctional

Comfortable

More Storage

Easy to Drive

Easy to Maintain and clean
That said, let's get started with the different types of pontoon boats and what they offer.
Fishing Pontoon Boats:
Pontoon fishing floorplans accommodate two boats in one. It is a part luxury cruiser and part serious fishing machine. These types of pontoons boat for sale are designed with the fisherman in mind and have features that make fishing easier, such as:
Two stand-alone fishing chairs

Generous fishing storage, including live wells, tackle storage, and rod holders

Depth finders, GPS, and sonar

Bait prep stations
With most fishing floorplans, you have the option to add a trolling motor to make maneuvering around the lake a breeze.
So if you are looking to cruise the lake with family and friends and cast a line or two, a fishing pontoon is the perfect choice for you.
Bar-Style Pontoon Boats:
The Bar-Style pontoon is perfect for socializing and entertaining on the water. These pontoons usually have a bar top with bar stools and pontoon-style seating throughout the boat.
This bar setup is perfect for those days you want to relax on the water with friends and enjoy some drinks and appetizers. It's also a great spot to host a party, and with the built-in stereo system, you can set the mood with some music. Most bar-style pontoons will also have a built-in cooler or fridge so you can keep your drinks ice cold all day long.
Another use for the bar-style pontoon is family meals. Suppose you cruise all day with kids on board; it's the perfect spot for lunch or dinner without going back to shore. Instead, just pull up to a sandbar, drop anchor and enjoy a meal right on the water.
A complete entertainer's dream, the bar-style pontoon is perfect for those who love to socialize on the water with friends, families, and small children.
Lounge-Style Pontoon Boats:
The lounge-style floor plan probably comes to mind when you think of pontoon boats. The furniture on the pontoon is comparable to that in your living room, especially in newer models, which feature plush, comfortable furniture and lots of cushioning.
One popular floor plan style includes a rear-facing couch that wraps around the back of the boat, perfect for relaxing and enjoying the scenery as you cruise down the lake. This type of seating has many different names, such as social lounge, rear-facing lounge, or U-lounge.
Depending on the manufacturers, some rear-facing lounges are multifunctional. This means you can convert them into a sun lounger or day bed, rear-facing fishing seats, or even a dinette table for dining on the water.
The rear lounge is large and spacious, perfect for groups or families. And with the added benefit of converting it into different seating arrangements, it makes it one of the most versatile floor plans on the market.
If you are looking for a luxurious, spacious pontoon with plenty of room to entertain, the lounge-style float is perfect.
Quad-Style Pontoon Boats: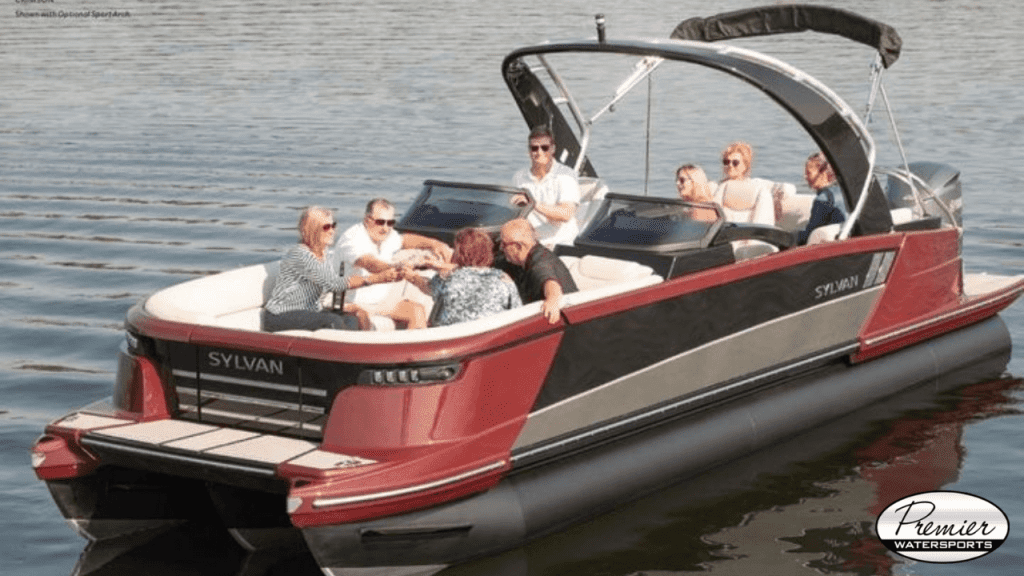 This type of pontoon offers a floor plan with quad seating. That means both the bow and stern have two lounges facing each other and a walkway in the middle. The quad-style floor plan is perfect for big families or those who need extra seating and storage.
The walkway's added benefit in the middle and stern radius makes it easy to get from one end of the boat to the other. And the enclosed floor plan gives you a sense of security without being worried about anyone falling overboard.
Arch Model Pontoon Boats:
Most pontoon manufacturers offer an arch that can be added to your boat. Some arches are just for aesthetic purposes, while others provide functions, including adding a bimini top, wakeboard tower, or even a speaker system that helps amplify your music while cruising on the water.
The arch offers a sleek, stylish look to your pontoon and can be an excellent addition for those looking to add some extra flair to their boat. It is also a great way to personalize your pontoon and make it your own. And with the added benefit of being able to add accessories, it makes it one of the most popular floor plans on the market.
Double-Decker Pontoon Boat:
For those looking to maximize every inch of their pontoon, the double-decker floor plan offers plenty of room for all your friends and family. You get a standard pontoon below and a second-floor deck on top.
The second story has a dual purpose as it offers shade to the lower deck and acts as a viewing platform to take in all the sights while you are cruising down the lake. In addition, some double-decker pontoon boats come with a slide that adds an extra element of fun for kids and adults alike.
In short, all pontoon amenities are packed with double the fun.
How to Choose the Right Pontoon Boat
Pontoon boats offer a lot of versatility in design, floorplans, and features. So whether you are looking for a luxurious lounge-style pontoon with lots of space to entertain your friends and family or a compact quad-style boat that's perfect for big groups, there is sure to be an ideal type of pontoon for you.
To help you narrow down your choices, we have shared some of the most popular types of pontoon boats on the market. Now it's up to you to decide which one is the perfect fit for you and your family.
When choosing a pontoon boat, it is vital to consider how you will use it. For example, if you are looking for a boat to entertain large groups, then you will want to choose a pontoon with plenty of seating and storage.
On the other hand, if you are looking for a boat to take out on the lake for a relaxing day of fishing, then you will want to choose a pontoon that is compact and easy to maneuver.
No matter what your needs are, there is sure to be a pontoon boat that is perfect for you.
Ready to Buy a Pontoon Boat?
Premier Watersports, your trusted boat dealer in Tennessee, offers the best selection of pontoons from the leading manufacturers in the industry. With our wide selection of pontoon boats, you can pick the perfect boat to fit your needs and budget. 
So what are you waiting for? Start browsing our inventory today and find the perfect pontoon for your next adventure!